How did you came to tattoos ?
I have a really close friend who does it. He practices on me. A lot of practice on
me !!!
................................................


This is the very first version of the new 25 ta life record. That's the original idea.
The first tattoo I ever did was the little one on my chest.
.................................................


But that hurt, you should get yours done. And I got tattooed here in France. I'm enjoying myself so much here that I got tattooed. That was on of the main thing, I wanna get tattooed here.
Among all your tattoos, which one do you like the most ?
Those of my children :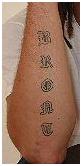 Bront, he's 4 years old

and Owen is 2 years old
I can look down and they're with me all the time. They're always with me, they're at home ! Those are my most special tattoos, my children.
Have you got an idea for your next tattoo ?
Mmm, it's a good question. I think I'm gonna get the "Exploited" skull on my face. The one with the mohawk ! That would be pretty crazy ! That's my next tattoo !
Is there tattooist work that impress you very much ?
I just like going all around the world and meet different tattoo guys. It's kool to be able to go all around the world and meet new friends. And have them do a little bit of their work on you just to remember where you've been. I'm a travelling billboard !

All the Jskamz's tattoos !!!